MANAGED COLOCATION SERVICES /SERVER COLOCATION
Colocation is a service that enables your organization to deploy their own servers and host it in a protected datacenter off the company's premises. The organization is the owner of the server and not the managed service provider. Your server will be maintained, managed and monitored by the datacenter provider.
The company will access their server over the internet using a secured VPN connection.
The key objective behind server colocation is to utilize the enhanced cloud services from the datacenter infrastructure without incurring heavy operational costs.
These are some of the services that managed colocation can offer:
Network Services (Includes a dedicated IP address and bandwidth)

Server hardware resources & Application Management

Storage, Backup and disaster recovery


Performance tuning and advanced server monitoring

Anti-Virus and end point security

OS installation, reload, patches and security updates

Network support

Power support

Hardware support

Managed Security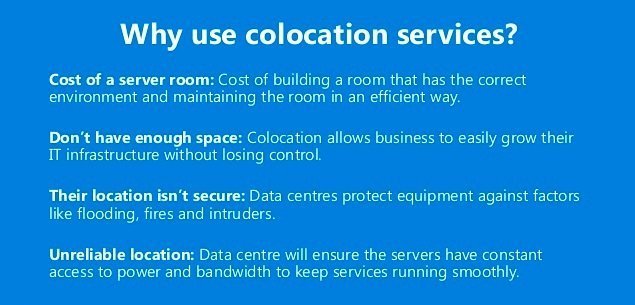 WHY MANAGED COLOCATION SERVICES:
Running and maintaining your own datacenter can be time consuming, expensive and diverts valuable IT resources away from tasks that can grow an organization's business. There may also be need to expand business to new locations which also requires new technology resources.
The cost of buying a server and housing it inside the company might be relatively inexpensive compared to the operational cost benefits of managed colocation services. The services provided by managed colocation services are valuable and can give a company peace of mind



THE BENEFITS OF MANAGED COLOCATION SERVICES
The benefits of managed colocation services outweighs that of unmanaged colocation services.
Housing and protection:
Your server will be securely housed, powered and provided with cooling systems. Network services, firewall, and threat management systems will be provided to keep away cyber-attacks.
Monitoring and tracking:
Your servers operating systems, disks space, RAM usage, CPU and other system resources will be monitored 24/7. The company will get an immediate alert if anything goes wrong in the server.
Responding and repairing:
This covers any services that are necessary when your serve malfunctions. These can include troubleshooting and remediation services as well as part replacement.
Preventive measures:
Firewall, Endpoint security and threat management systems will ensure that your server is safe. Backup and recovery services also ensure that your data is recovery in case of any disruption.
Lean IT staffs:
You will not spend so much in staffing your IT department which also increases your operational costs.