What's new with the 3CX WhatsApp messaging?
Have you tried it yet? 3CX WhatsApp messaging has been supercharged. These new features are making a great solution for customer service and retention.
From selecting colors, to choosing chat bubbles and even animating your live chat messaging box, you can start styling today!
The recently updated 3CX contact center solution offers a set of omni-channel communication solution. 3CX have added WhatsApp to the mix to take the pain away by offering customers one central system for calls, live chat and messaging.
This offers the ability to Work on all incoming messages as a team, without the need to rely on a single agent to answer.
3CX Android and ioS App Now Integrated with WhatsApp
Head over to the Google Play Store to download the latest 3CX Android app that includes WhatsApp integration and improvements to SMS/MMS.
iOS App Official Release Boosts Messaging with WhatsApp.
Download and install the 3CX app from the iOS App Store and work as a team to reply to WhatsApp and SMS/MMS.
3CX WhatsApp integration - one number and unlimited agents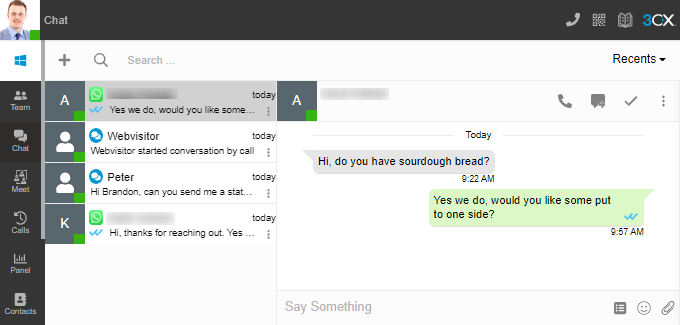 As customer expectations and requirements changes, so must companies that serve them. Because of the new trends in customer service, 3CX has developed a simple and easy way to integrate 3CX WhatsApp messaging into your contact center. Now, customer support can be obtained via a single 3CX dashboard using traditional phone calls, video, live chat, SMS/MMS, and WhatsApp messenger. This means that your agents or users will not have to login into different applications or move between multiple screens to reply to customers.
There is no issue with the setting up of agents devices or user limitations as the configuration is set up centrally on the 3CX system. Then users are easily added to the 3CX system so that there is no requirement for a physical phone to scan browser QR codes. 3CX mobile apps can be downloaded from Google Play and the Apple app store and be used as WhatsApp clients.
Simplify your contact information by receiving WhatsApp messages on your existing company's main phone number. It's a simple process of adding the number and verifying it via a phone call or SMS. This will really impress your customers who love to use WhatsApp and also improve your company image.

With zero reliance on a physical handset or WhatsApp web, managers and administrators can easily add and remove agents in queues that deal with WhatsApp messages. Larger businesses will not feel the pain of having to provision agents using the QR code method on a physical handset. Agents can respond from any of the 3CX clients including the mobile app making responses while outside the office very possible. Customer service levels will not be affected and potential customers will get the best experience possible.
WhatsApp messages can be delivered to a group of users or agents for making sure the customer gets a quick reply. Once more information has been requested, an agent can use a simple 'Transfer' option to send the conversation to another agent.
In further releases of 3CX version 18, an agent will be able to transfer the chat to a group of agents who will all then be able to respond to the conversation and then take ownership of the chat if needed.
By setting up Whatsapp integration with your 3CX contact center, it means that you are taking advantages of modern customer service features.
How to set up 3CX
WhatsApp messaging
Setting up the integration requires a WhatsApp business account and a phone number. There is no serious coding required to set up the integration.