Hotel Property Management Software
Our Hotel Property management software gives you everything you need to manage and run your Hotel Business.
Automate Operations, Increase Occupancy and boost Revenues.
you spend less time dealing with your front office tasks and invest more time with your guests.
We will provide you with an all in One hotel property management System that makes hotel management a breezy task.
Main modules of our hotel property management systems
Reservations

Front-desk

operations

Channel management

Revenue management

Housekeeping

Night Audit

Reports and analytics

Back-office management

Stock Control

Accounting

Human Resources Management

Point-of-sale services and many more.

We have supported over 50 hotels in Nigeria with Ezee front desk, Opera & Micros, Hotsoft, and Bizedge.
While Netcat Technology Solutions Nigeria tries to establish good relationships with clients, we also partner with our suppliers in building relationships so that you can reap the benefits of quality and competitive prices. We can bring the advantages of our vendor relationships to your business.
Benefits of our Hotel Property Management Software
We provide user friendly solution that gives you access to evaluate your business.
It increases revenue by cutting down costs.

It operates on the principle of real-time transaction.

It is transparent and accessible to every department and staff, depending on user status.

It is secure, fraud and hack proof.

It is user friendly.

It gives room for easy expansion.

It is fast, accurate and efficient.

It incorporates an automatic backup facility.

It facilitates quick and easy access to information.

It provides an easy means for auditing.

It automatically generates report for performance assessment.

All Modules are fully integrated.

All reports needed for decision-making are available at the click of a button.
We have seasoned and professionally qualified support teams to provide you after sales support services.
We also provide the recommended hardwares for your Hotel property management system such as computers, receipt printers, RFID cards, POS Touch screen, Cash Drawer, Thermal Receipt Printer Paper  etc.

The all-in-one reservation System

Centralised control on all your operations
Be it front office, housekeeping, guest engagement or any other important hotel management task, get a centralised control on everything with the hotel management software.

Booking engine 
The hotel management software is connected with a booking engine and channel manager. It acts as one system, requiring only a single login to access any operation.
Real-time inventory and rate updates.
Get more direct bookings and pay less commissions to OTA's

Channel manager
Channel manager being seamlessly connected with our hotel management software. you can manage live inventory and rates on all your connected channels from anywhere.
Get direct bookings to multiply your revenue.
Our hotel management software. helps you in receiving unlimited direct bookings right from your hotel website through an integrated booking engine.
This is a very efficient revenue management system.

Revenue Management

Maximize your revenue through flexible pricing and yield management using our hotel property management software.
Its detailed insights help you with strategic business decisions.
You can easily configure various rate plans and meal plans that you offer. Also you can set up and sell those combined rate plans as packages.We have over 200+ third party integrations to choose from.

Integrations
Run your business smartly by choosing the best from third-party integrations like financial accounting, payment gateways, OTA's, GDS, CRS and many more.

Payment Solution

Your guests can access your booking engine and get receipts when paying online using the hotel property management system.

Notifications
With our hotel property management software, guests will receive notifications from the system, pre-arrival notifications, in-house and post-departure emails. You can even send them your exciting deals and packages.
You can avail yourself of the full profile management and Email marketing to improve guest engagement.

Guest Profiles

Our hotel management software lets you create and manage multiple guest profiles at your property.
Other profiles you can manage are company profile , travel agent profiles, etc. Manage their details effectively and use the data for marketing purposes.
Flexible Transaction management

This hotel property management software will easily help you merge folios, route folios, split folios, transfer folios and every other folio management operation very accurately.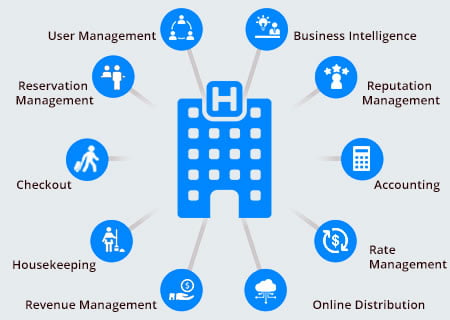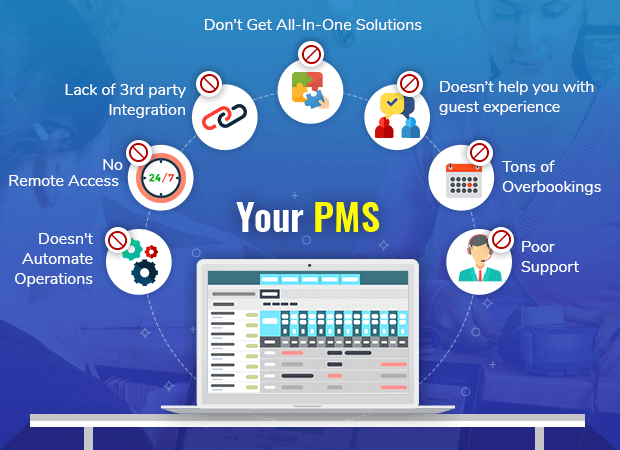 Time to replace your HMS if it has these features